Premeny slovenskej žurnalistiky po novembri 1989 – to bol názov vedeckej konferencie, ktorú Katedra žurnalistiky Filozofickej fakulty Univerzity Komenského usporiadala v Bratislave v stredu 6. novembra 2019 v rámci Týždňa vedy a techniky Slovenska 2019.
Po predchádzajúcich ročníkoch, ktoré sa zamerali napríklad na Ľudovíta Štúra, na univerzitné štúdium žurnalistiky v digitálnom prostredí či na "šesťdesiatku" časopisu Otázky žurnalistiky, bola aj tohtoročná téma nanajvýš aktuálna, venovala sa zmenám slovenskej žurnalistiky od Nežnej revolúcie, teda za posledných tridsať rokov.
Ukázala to už prvá prednáška Danuši Serafínovej – Nežná revolúcia a začiatky prevratných zmien na stránkach dobových slovenských denníkov. Na konkrétnych príkladoch ukázala, ako vyzerali posledné čísla vybraných periodík krátko pred revolúciou a aké zmeny v nich potom nastali. Anna Sámelová vo svojom príspevku nazvanom Míľniky novinárskej nestrannosti na ceste editorskej zodpovednosti chronologicky skúmala podoby nestrannosti v ponovembrovom vývine slovenskej profesionálnej žurnalistiky a ich vplyv na dennú rutinu novinárov a redakcií. Mária Follrichová upriamila v príspevku nazvanom Zmena – od novinového letáka po nezávislý týždenník a mesačník (1989 – 2004) pozornosť na periodikum Zmena, ktoré spočiatku vydávali študenti našej katedry.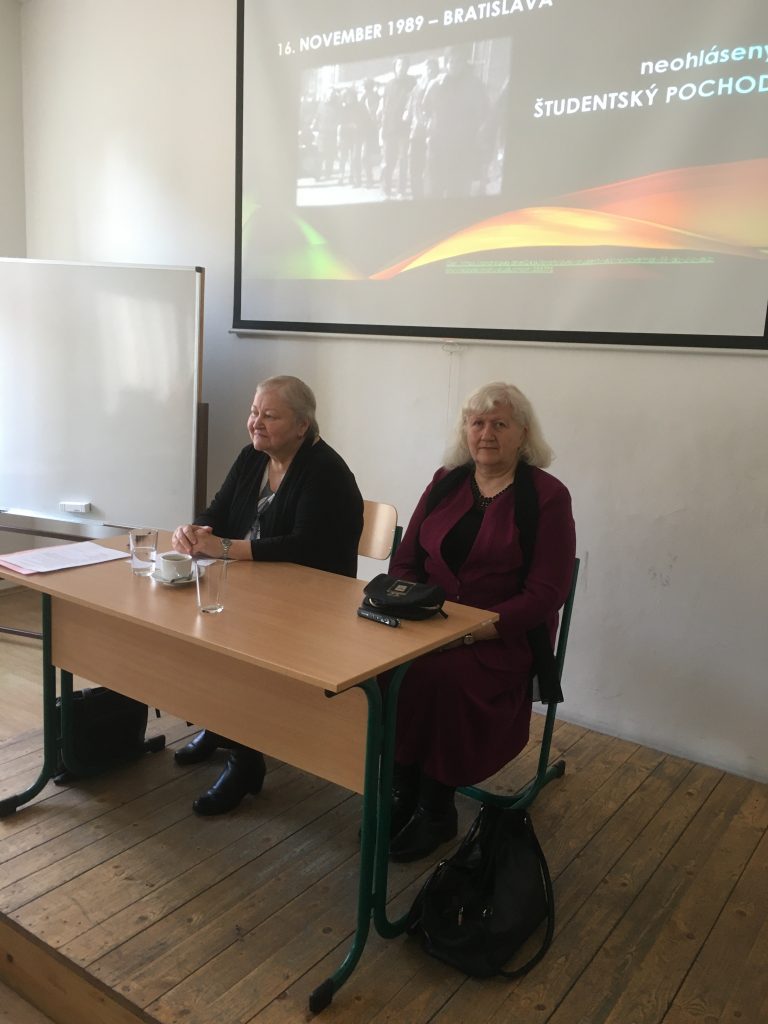 O demokratizačnej funkcii časopisu Slovenské pohľady počas vedenia R. Chmela v rokoch 1988 a 1989 hovorila vo svojom príspevku Mária Stanková. Nazvala ho Slovenské pohľady (n)a November 1989. Ďalším vystupujúcim bol Peter Kubínyi, ktorý poukázal na absenciu novinárskeho žánru fejtón v slovenských printových médiách.
Po prestávke vystúpila ako prvá Svetlana Hlavčáková s príspevkom Z tlačového tajomníka – hovorca, v ktorom sa zamerala na cenzúru, úrady pre tlač a kontrolu médií i tlačových tajomníkov a ich prerod na hovorcov po roku 1989, čo sa odvíjalo od etických kódexov. Olívia Strapeková v príspevku Ekonomická žurnalistika na Slovensku po roku 1989 hovorila o vývoji ekonomickej žurnalistiky vrátane trendov, ako je digitalizácia a globalizácia, ktoré ju ovplyvnili. Poukázala tiež na vplyv finančnej krízy z roku 2008 na vývoj tohto odvetvia žurnalistiky. Ján Hacek, ako to už vyplývalo z názvu príspevku – Vznik a vývoj otvorených zdrojov pre novinárov na Slovensku, sa zameral na to, akým spôsobom vznikali v roku 1989 takzvané otvorené zdroje a otvorené dáta pre novinárov na Slovensku.
Veronika Ševčíková sa sústredila na profesiu hovorcu v príspevku nazvanom Rozšírenie profesie hovorcu na Slovensku po roku 1989 a Adam Solga v príspevku – Máme sa obávať o budúcnosť slobody prejavu? – vychádzal z toho, že sloboda prejavu a sloboda tlače je odkazom Novembra 1989.
Text a foto: Peter Kubínyi